Adhish Industries
have been in the pharmaceutical business since more than two decades. We have been manufacturing and supplying water purifying chlorine tablets, nadcc (sodium dichloroisocyanurate) in tablets, polyfloc tablets, nadcc in granules & nadcc in powder forms and halazone tablets. We also make flocculation compound by the name of polyfloc to cure waste water. We are an iso certified company and we manufacture strictly according to gmp (good manufacturing practices) norms. We have an excellent track record of supplying to various government, semi government, defence and private institutions.

During natural calamities like floods etc. We have supplied very promptly to ndrf also which air dropped our chlorine tablets. We have a capacity to manufacture about 20 lakh tablets per day per shift having a very dedicated and experienced team of workers. We strive hard to maintain our position in the market and outperform ourselves to give the best products and services to our clients.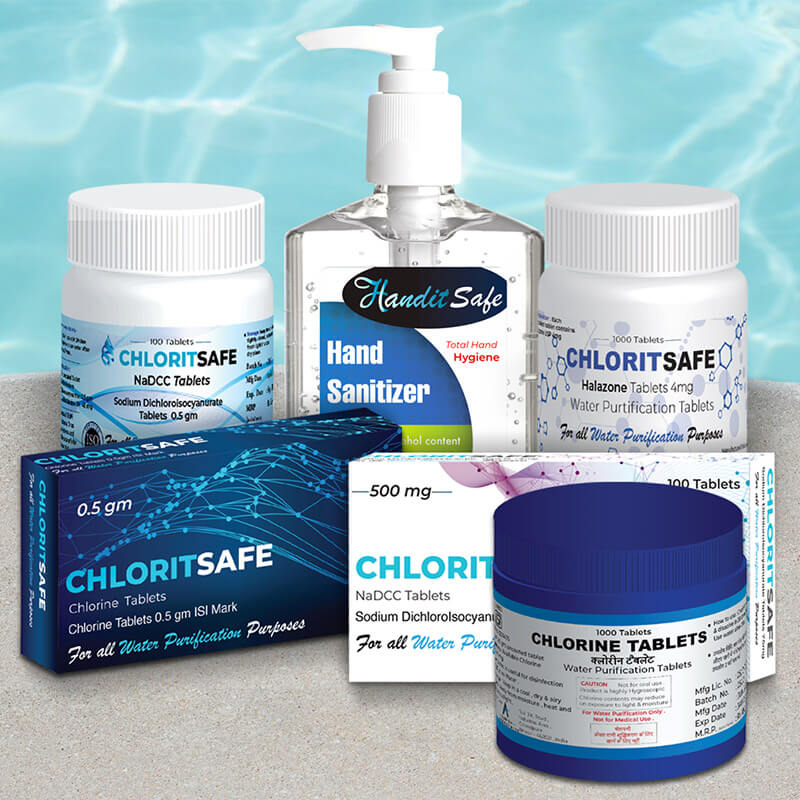 Water is one of the basic elements upon which life on earth depends. In the absence of adequate and safe drinking water, diseases such as Hepatitis, Typhoid, Jaundice, Dysentery, Cholera, Skin and Eye infections are very common. Contaminated water is a big problem particularly in the third world countries and disaster hit areas, flood affected areas, army camps, refugee camps etc. Keeping that in view our company M/S. ADHISH INDUSTRIES, Bhopal ventured into the field of manufacturing Water Purification Tablets, Water Treatment Tablets and Water Purification Granules etc., at our State of the art facility in Bhopal adhering strictly to CGMP (Current Good Manufacturing Practices).

Our product range includes Chlorine Tablets ISI mark, Halazone tablets and Sodium Dichloroisocyanurate Tablets which is the standard constituent for water purification in the World Health Organization's Emergency Relief Kit (1998) apart from many other health organizations.These tablets yield a known level of available Chlorine which makes the water biologically safe for drinking but do not alter the taste, odour and colour of water while keeping the PH neutral. They are stable, safe, economical, spill and leakage proof, easy to store and use. They can work efficiently in hard water also. They are regularly used in Hospital disinfection, Food and catering industries, Overhead tanks, swimming pools, laundries, Janitorial industry, Ice factories, Dairies, Fisheries, Poultry Farms and have been recently approved to be used in bio toilets by the Indian Railways.

Excellence in all that we do is the motto of our team of dedicated and experienced workers.
Business Specific
| | |
| --- | --- |
| Nature of Business | Manufacturer, Wholesaler, Distributor, Trader, Exporter and Supplier |
| GST Number | 23AAZPG0982C1ZP |
| No. of Employees | 25 |
| Monthly Production Capacity | As Per Clients Order |
| Niche Market | India |
| Banking Partner | Axis Bank |
| Warehousing Facility | Yes |
| Production Type | Semi-Automatic |
| Export Turnover | INR 1 Crore |
| Annual Turnover | INR 5 Crores |